Frequently Asked Questions
Below are the most commonly asked questions and guidelines for the application process, admissions and general program information.
Questions about the MSAS program
What are the skills that will be taught in the program?
There are three types of expertise required for building systems to do automated science.  The first is familiarity with the various types of experimental methods used in a particular field and with the operation and characteristics of the current equipment that can perform those experiments on a large scale and under computer control.  The second is experience in constructing and using statistical and machine learning methods for constructing predictive models from experimental data.  The third is expertise in active machine learning methods for using predictive models to choose future experiments that are expected to enable the accuracy of the models to grow as rapidly as possible.  The program will provide these skills through both theoretical and practical instruction, culminating in a capstone course in which real world problems are tackled in collaboration with industrial and academic partners.
What kind of automated equipment will we use in the Automation Lab course?
MSAS students will receive unparalleled training about state-of-the art laboratory automation.  This includes a state-of-the-art automated science laboratory dedicated to the program.  It contains the equipment below within  a sterile enclosure that avoids contamination and provides containment for safety.  Each of these instruments are under computer control, allowing the creation of protocols combining multiple steps to prepare samples and make experimental measurements.
A liquid handling (pipetting) robot for creating plates with samples for further analysis
An automated incubator for growing cells
carousels for storing plates before analysis
An optical plate reader for reading total intensity of each well in a plate
An automated confocal microscope for collecting transmitted and multi-color fluorescence images of multiple fields within each plate
A nucleic acid extraction robot for preparing DNA or RNA
A robotic arm for plate movement and management
In addition, Carnegie Mellon is creating the first university-based Cloud Lab that will provide the ability to do a wide range of experiments in a fully remote manner, analogous to the way that cloud computing resources are used.  The lab is expected to be available in Fall 2022 and its use will be included in MSAS training.
What careers are available to students after graduation?
Scientific Automation is widely used in the pharmaceutical, biotech, and agricultural industries.  MSAS graduates are qualified to select, configure, customize, and operate the hardware and software necessary to automate essential tasks in scientific research and engineering.  These skills are relevant to positions with titles such as:  
Automation Engineer
; 
Platform Engineer
; 
Scientific Computing Engineer
; 
Laboratory Automation Specialist; Lab Manager; Analytical Automation and Informatics Scientist. 
 Salary 
estimates
 for positions like these are in the range of $80K to $150K per year, depending on location and experience. 
You can search for current jobs by geography and keyword 
here
.
What if I am interested in continuing on to a Ph.D. program at Carnegie Mellon?
Near the end of the first year, research option students will meet individually with the Advising Committee to discuss their research interests and the most appropriate area for Ph.D. studies. They receive advice in preparing Ph.D. applications, and the opportunity to apply for early acceptance into one of the participating Ph.D. programs (Computational Biology and Biological Sciences). If admitted, their curriculum for the fourth semester will be adjusted to include some coursework required by that Ph.D. program. This will enable them to begin Ph.D. studies not only with excellent preparation from the MSAS curriculum but with advanced standing in their Ph.D. program. They will be encouraged to begin M.S. Research in the summer after the first year (rather than doing an internship) and the advisor would typically be chosen from the faculty of their target Ph.D. program.
All students accepted into one of our Ph.D. programs receive fellowships for stipend and full tuition.
How will summer internships be arranged?
We have compiled a list of automation companies who have expressed interest in providing paid summer internships to our students (including companies who have offered internships to our students in the past).  We create a PDF with resumes of all students seeking internships and circulate it to these companies early in the spring semester.  Our students have also found internships through their own efforts as well.
What topics will be covered in the Machine Learning for Scientists course?
A solid introduction to machine learning is provided, including deep learning methods.  It is equivalent to the introductory machine learning course for master students that is taught by the Machine Learning Department (it is taught by a former instructor of that course) but the lectures and homework problems will use examples drawn from biology and medicine.
Will I be able to take courses from other departments at Carnegie Mellon?
We have designed a full two year curriculum to provide thorough and rigorous training in areas relevant to automated science. This limits the room for taking free electives but all students will have the option of taking a graduate-level free elective from any department in the fourth semester.  In addition, students who place out of 02-601 and/or 02-680 will have the opportunity to take electives in other SCS departments (such as Machine Learning).  Students may also petition to replace a Computational Biology elective with a course offered by a different department.
Are M.S. students able to serve as Research Assistants (RAs) or Teaching Assistants (TAs)?
Yes, qualified students may be able to find work as either research assistants (RAs) or teaching assistants (TAs). Our faculty hire some students as research assistants paid on an hourly basis during the academic year. Once you arrive on campus in the fall, you are welcome to contact any of our faculty about the possibility of obtaining a paid position.  We strongly advise that students wait until the second semester to begin work as a RA or TA. Note that the number of RA and TA positions is limited and we do not guarantee that you will be able to find a job. Both RAs and TAs work on an hourly basis.  For international students, the number of allowed work hours for wages is determined by their visa regulations.
What are the differences between the MSAS program and the MS in Computational Biology (MSCB) Program?
While MSCB focuses solely on computational algorithms and methods for analyzing and modeling of biomedical systems, the MSAS curriculum also provides training in AI for iteratively choosing experiments and on fundamental aspects of the laboratory automation that is used to execute them.  The goal of MSAS is to enable students to become leaders in this emerging field of automated science.
The programs share some training faculty and three required courses (02-712, 02-750, 03-709), but the intellectual content is distinct. Both programs prepare students for jobs in industry or additional graduate study in competitive PhD programs
General Application Questions
Is there an application fee and when is the application deadline?
The application fee is $125 for one program and $75 for each additional program.
Application Fee Waivers:  We expect all applicants to submit payment with their online application. However, note that we do waive the required fee under certain circumstances. Fees for application to a limited number of our programs can be waived for participants in certain programs. In addition, if you are unable to pay the application fee, the School of Computer Science will consider a fee waiver request. For information about how to apply for an application fee waiver, visit the SCS Graduate Application Fee Waiver Page.
Are there required forms or formats for the online recommendation letters?
Yes, online recommendation forms are automatically e-mailed to recommenders once a student has submitted the application.
What should be included in the three online recommendation letters?
The three letters of recommendation should be written by professional or academic references. Recommenders should know you relatively well and be able to evaluate the quality of your previous work. At least two should be from faculty or recent employers.
What information should be included in my statement of purpose?
Your statement of purpose should be a 1-2 page essay describing:
your motivation to enter the field of Automated Science,
any relevant experience you have (including your role in those projects/positions), and, if applicable, any publications.
your reasons for considering the MSAS program here at CMU for graduate work.
Your statement must be written in your own words. We use software to detect plagiarism in personal statements. Any applicant that submits a personal statement determined to contain plagiarized material will be rejected immediately.
How should my statement of purpose be formatted?
Prepare a concise one or two page essay in PDF format that describes your primary areas of interest, your related experiences, and your objective in pursuing a graduate degree at Carnegie Mellon. Your essay should be specific in describing your interests and motivations. When describing your interests, you should explain why you think they are important areas of study and why you are particularly well-suited to pursue them. You should describe any relevant education, research, commercial, government, or teaching experience. If you are applying to more than one program, you may (but are not required to) submit a separate Statement of Purpose for each program. If you are submitting different statements, please upload as one file. Include your name and User ID on the essay.
Your User ID can be found as you fill out the application, for more information on that, please go here: https://www.cs.cmu.edu/masters-admissions.
Admissions Requirements & Test Scores
How do I get my transcript evaluated and GPA calculated?
International applicants should submit their transcripts in English, but do not need to hire a credential evaluation service as long as the degree is equivalent to a US degree and the transcript has been translated to English.
Are international students accepted?
Yes, the program is very diverse and welcomes international students. The numbers of foreign-born applicants, accepted students and matriculating students vary each year.
What are my chances of being accepted to the M.S. program?
Only the admissions committee can judge if you are qualified for admission. The Admissions Committee is selective and only considers those applicants who have the potential for a successful career in industry or academia. Your chance of acceptance depends upon both the size of the applicant pool and the strength of your complete application.
Are GREs required?
No. Neither general nor subject GREs are required for acceptance into the MSAS program.  We assess applicants holistically and take into consideration many factors including quantitative and computational background and skills. These skills can be demonstrated by optional submission of GRE scores or by advanced coursework in computer science, mathematics (especially linear algebra), statistical inference, or related areas.
Note:  When submitting your application, you may be asked to enter the date you expect to take the GRE.  If this happens, just enter any date in the future. We ignore that field. 
Is there a minimum TOEFL score?
The Test of English as a Foreign Language (TOEFL) or the International English Language Testing System (IELTS) is required if your native language is not English. Carnegie Mellon requires TOEFL scores of 100 or better or an IELTS score of 7 and above. During our review process, we carefully reviews the sub-scores of each of these exams and consider those candidates with reading, listening, speaking and writing sub-scores of 25 or more on TOEFL and 7.5 or more on IELTS to be candidates with high levels of English proficiency.
We do accept IELTS scores as well.  We use the following site to convert IELTS to TOEFL scores: https://www.ets.org/toefl/institutions/scores/compare.
NOTE: Scores must be no more than five years old
Questions About Required Background
What background do I need to pursue the MSAS program at CMU?
We admit students with a wide range of backgrounds. An undergraduate degree in any life science or any quantitative field (e.g., computer science, mathematics, statistics) is desirable. Interest in biomedical research is a must, and some prior coursework or research experience in the life sciences (especially cell and molecular biology) is a plus.  Some experience with computer programming and a desire to learn more is a must, and prior coursework or research experience in computer science, machine learning is a plus.
Do I need to have any previous programming experience?
No, but students with limited programming experience will be provided with introductory programming materials and expected to go through them during the summer before they enter the program.
Do I need to have any previous coursework in Biology or Chemistry?
No, but students with limited background in the life sciences will be required to take an introductory class. Also, for applicants with little or no background in biology or chemistry, we strongly recommend that you explain why you want to study scientific automation in your Personal Statement.
Do you admit students in the spring or summer semesters?
Financial Questions
How much is tuition?
For the 2023-2024 academic year, tuition is $54,412. Room/board and other costs are not included within this total. A complete list of graduate tuition and cost of attendance information may be found at www.cmu.edu/sfs/tuition/graduate/scs.html.
Is there financial support for graduate students?
Carnegie Mellon participates in the GEM Fellowship program that provides stipend and tuition support for American students from groups underrepresented in STEM fields (African Americans, Native Americans, and Hispanic Americans).  Eligible students are strongly encouraged to submit  Part 1 of the application as soon as possible.  Part 2 must be completed by November 13.
It is advised that you review Carnegie Mellon's Enrollment Services Web site for external sources of financial aid. International students should check with their home country for additional funding opportunities and private loans.
Is health insurance provided?
No, students must provide their own insurance. Carnegie Mellon requires full-time, degree-seeking students to enroll in the university's contracted student insurance plans or request a refund of the premium by completing a medical insurance waiver form on which they verify that their alternative insurance meets the university's mandated requirements.  Information about the insurance options available for purchase from Carnegie Mellon is found at the 
Student Health Services Web site
.
Questions about Life in Pittsburgh
What is special about Carnegie Mellon University?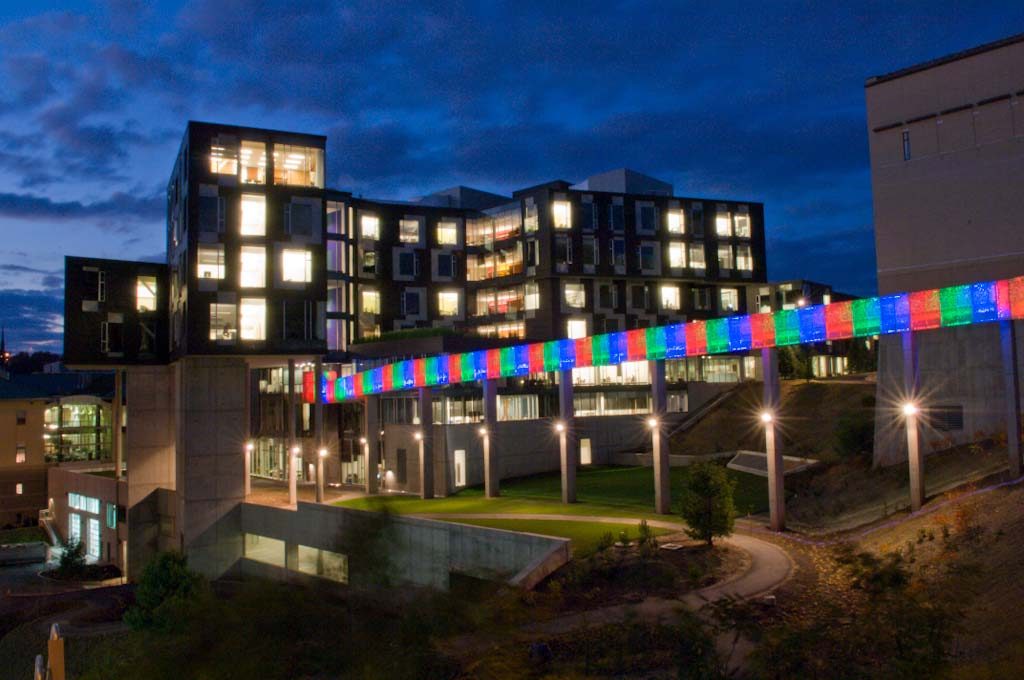 Carnegie Mellon University is a world-class research university with global influence and a proud heritage of outstanding graduate and undergraduate education and research. Our vision is that Carnegie Mellon will meet the changing needs of society by building on its traditions of innovation, problem solving and interdisciplinarity.
What is life like in Pittsburgh?